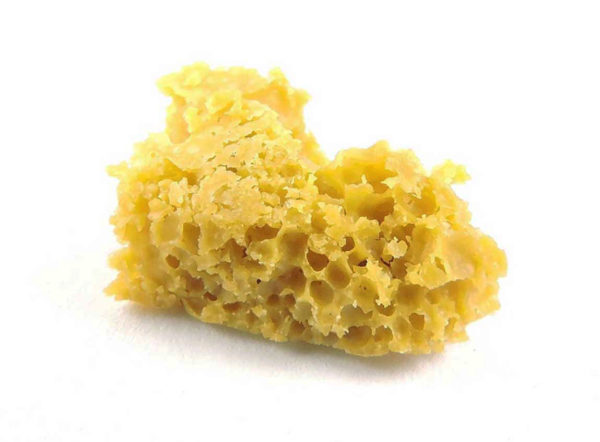 Sold out!
9 Pound Hammer Crumble Wax
$20.00
Crumble Wax is an extract, a form of cannabis concentrate that's produced using a solvent. But unlike other concentrates, which are generally fluid in their consistency, crumble is defined by its unique, crumbly texture. In fact, when made correctly, the final product is the driest type of extract on the market. Crumble can be made with processes that include either trimmed, cured nugs or a freshly harvested plant. It can be consumed on its own, or combined with flower in a variety of ways. This versatility, combined with its potency, makes this increasingly popular among cannabis consumers.
9 Pound Hammer is a heavy-hitting indica with a patchwork genetic background. It is a three-way cross between Jack the Ripper, Hell's Angel OG and fruity Gooberry. This relaxing bud was created by prolific breeders TGA Subcool Seeds, the same producers responsible for Deep Purple and Jesus OG. 9 Pound Hammer has a strong fruity aroma with a tropical inflection. Like parent strain Jack the Ripper, it is redolent of citrus and grape.
It burns with a remarkably smooth smoke that tastes woodsy and piney with a hint of lime on the exhale. This strain is named 9 Pound Hammer for a reason: almost immediately, it hits users over the head with its heavy-duty sedation. Deep breathing may come more easily and muscular tension may dissipate. This sensation soon progresses into a full-body high that may leave smokers feeling floaty and disoriented. In addition to these somatic effects, 9 Pound Hammer imparts some subtle mental stimulation — while it may not trigger intense, cerebral thinking, it can alter perception, making sounds or colors take on a new intensity.
| | | |
| --- | --- | --- |
| Quantity | Regular price per gram | Special price per gram |
| 1-3 grams | $40 | $35 |
| 4-7 grams | $35 | $27.5 |
| 8-13 grams | $30 | $22 |
| 14-27 grams | $25 | $19 |
| 28 grams or more | $20 | $17 |
Sold out!
Please register to get your referral link.
Referral Program
For each friend you invite, we will send you a coupon code worth $50 that you can use to purchase or get a discount on any product on our site. Get started now, by sharing your referral link with your friends.
Your Referral URL:
https://buyweed247.store/product/9-pound-hammer-crumble-wax/
Click to copy